Tonight's program is dedicated to Lew Fisher, a long time fan and promoter of progressive music. His group, the Progressive Music Society, went through several incarnations as technology changed until he closed it down a few years ago. The group was an invaluable source of discussion and suggestions for fans of progressive rock. Lew continues his advocacy for prog through his daily Facebook posts. Because he is such a fan of Italian prog, I asked him for some suggestions other than the standard PFM (Premiata Forneria Marconi) and tonight's program is the result. Good listening everyone! Notes on all the tracks and bands played tonight are below. The complete playlist for tonight's show appears after the music notes.
The first half of tonight's show will spotlight
Maurizio Di Tollo
's 2015 release, "
Memorie di uno sparring partner
" which Lew feels is destined to be a prog classic.
Prog Archives Review
by
Aussie-Byrd-Brother
SPECIAL COLLABORATOR
Rock Progressivo Italiano Team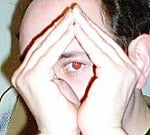 Italian multi-instrumentalist
Maurizio di Tollo
certainly keeps busy with a wide range of progressive music related work! The last few years have seen him drumming on La Maschera di Cero's well-received `La Porte del Domani' and several Hostsonaten discs, playing keyboards and drums on a cool self-titled instrumental album by the trio `Arena Di Tollo Marras', and even delivering a superb solo prog-rock album all his own entitled `L'Uomo Trasparente' in 2012. He presents a follow-up to that one in 2015 with `Memorie di uno Sparring Partner' (Memoirs of a Sparring Partner) , and it's a shock to discover it's not really much of a progressive rock album at all. Now before all the RPI and prog-fans start clenching their butt-cheeks in panic, make no mistake - Maurizo and his musical guests here (many of them Italian prog notables) have delivered an intelligent and very modern rock album full of extremely well-played instrumentation around very strong song-writing and effective melodies, but prog elements do show up, just in skilfully executed shorter passages in and around the actual tunes, which are always the focus.Along with Maurizio's own world-weary vocals and a general melancholic air that pervades all the tunes, `Memorie...' isn't really too far removed from Steven Wilson's recent solo works, as well as the darker moments of Fabio Zuffanti's more recent projects. The moody and sometimes dark rock of the album also mixes in elements of electronica, jazz and a definite singer- songwriter quality, though not in a folky manner that the term is often applied to. Instead the pieces revolve around very personal and reflective thoughts, which will likely be even more appreciated by those who speak Italian.
Looking at some of the particular highlights, piano-driven opener `Sempronio' comes to life once it picks up in tempo with subtle jazzy vibes, and it also holds a beautiful trumpet solo in the final moments. A definite solo Steven Wilson-like sound burns through `Il Cielo e' un Uomo Solo', where plaintive piano, gently humming Hammond organ, whirring dreamy synths and warm acoustic with emotional heart-wrenching electric guitar solo spots weave a seductive mix together, all while the tune itself holds a particularly lovely melody. Same goes for `La Vita Buona', a seductive the late-night contemplation of creeping electronics, ghostly piano, Anathema-like slow-burn electric guitar smoulders and dramatic upfront drumming behind Maurizio's raspy vocal.
`I Padroni del Vapore' is a welcome harder diversion with a crashing brooding heaviness and snarling vocal, `Se Questo e' l'Amore' is a stark piano rumination, `Il Poeta' a tough rocker, `Amore Mio, Hai Ragione' a powerful ballad fuelled by Mellotron on the chorus, and instrumental interlude `A Occhi Chiusi' begins on delicate piano before the whole band roar to life, aggressive chunky bass and hard driving drums the highlight. The longest piece at over seven minutes, `La Paura' is definitely one of the more overtly proggy pieces, a soaring theme with heavy bursts, programed loops and even triumphant and uplifting moog soloing, and Maurizio delivers a confident, commanding lead vocal fitting of a final closing musical statement.
After the initial disappointment that this isn't a full-blown prog-rock work to compare to his previous work (and sure enough, closer inspection of the BTF Records press release about the disc states that particular fact ' always pays to read the fine print beforehand!), `Memorie...' still quickly reveals itself to be a perfectly impressive work all its own. As prog-rock listeners, it's nice to sometimes take a step back and listen to something less busy or complex, yet no less intelligent and artistic, and Maurizio and his musical collaborators have definitely delivered that here. If you're in the mood for a thoughtful, early A.M hours kind of introspective listen and can give it several plays to link it sink in, ` Memorie di uno Sparring Partner' proves to be a fragile, haunting little gem.
Three stars as a prog album, four stars as a stylish and smart rock album.
Studio Album, released in 2015
Songs / Tracks Listing
1. Sempronio (5:45)
2. Io e le Cose (5:50)
3. Il Cielo e' un Uomo Solo (5:07)
4. La Vita Buona (6:35)
5. I Padroni del Vapore (4:21)
6. Se Questo e' l'Amore (4:39)
7. Il Poeta (5:56)
8. Amore Mio, Hai Ragione (4:28)
9. A Occhi Chiusi (3:12)
10. La Paura (7:26)

total time: 53:23
Line-up / Musicians
- Maurizio di Tollo (Distillerie di Malto, Fabio Zuffanti, H?stsonaten, La Maschera Di Cera, Moongarden) / Vocals, Piano, Synth, Moog, Programming
With:
- Christian Marras (Luca Scherani, Arena Di Tollo Marras) / Bass
- Eros Cristiani (Mauro Pagani) / Piano, Synth, Programming
- Andrea Pica / Guitar
- Ged Lynch (David Rhodes, Peter Gabriel, Random Hold, David Sylvian) / Drums, Percussion
- David Rhodes (Peter Gabriel, Random Hold, Talk Talk) / Guitar
- Roberto Gualdi (PFM, Alessandro Farinella, Voodoo Hill) / Drums
- Nicola Oliva / Guitar
- Andrea Cavalieri (Luca Olivieri) / Contrabass
- Ernesto Nobili / Classic & Acoustic Guitars
- Nico Casu / Trumpet
- Giux Mura / Back Vocals
- Fabrizio Barale (Luca Olivieri) / Guitar
Also on tonight's program:
We'll be hearing "Nove 1" from the album Storie Di Un'Altra Citta
La Maschera Di Cera
took life in 2001 when Fabio Zuffanti ( bass player with Finisterre and with a lot of other projects ) decide to form a group who could re-create the glorious tradition of the italian progressive sound of the '70.
We'll be hearing"Encicla 1168" from the album LuxAde
Taproban
was founded in Rome in 1996 by keyboards player Gianluca De Rossi and gets its name from Taprobana, the ancient denomination of Ceylon Island (Sri-Lanka), where Tommaso Campanella set his The City of the Sun. The group takes its inspiration by the Synmphonic-Pop or Progressive Rock of the earlier seventies, that had its best representative groups in Genesis, Yes, Gentle Giant and King Crimson. The absence of an electric guitar player and the consequent prominence of the keyboards, however, recall the triangle formation of Emerson Lake & Palmer or Le Orme, creating a sound language that prefers instrumental parts rather than lyrical.
We'll hear "Outside Nowhere (Parts A-F)" from the album Outside Nowhere.
Formed in Rome in 2001 as a '70s-centric prog covers band,
La Bocca della Verità
(The Mouth of Truth, so named after an ancient marble mask located in the Roman capital) have finally released their own work, a sprawling science fiction concept album that starts in the year 2161 and presumably tells the story of the planet Avenoth.
We'll be hearing "La Suite dei Tre Pianeti" from the album
Avenoth.